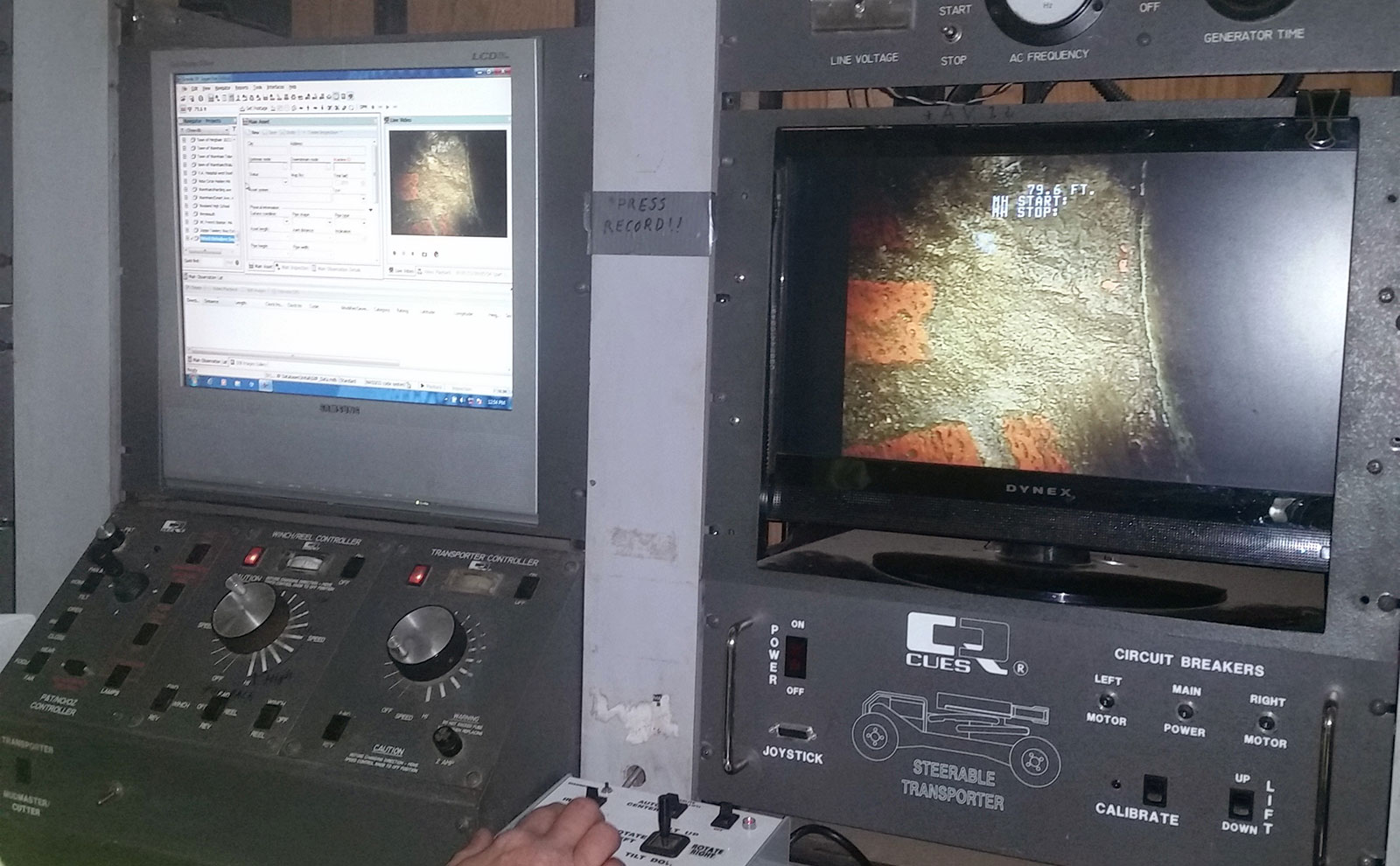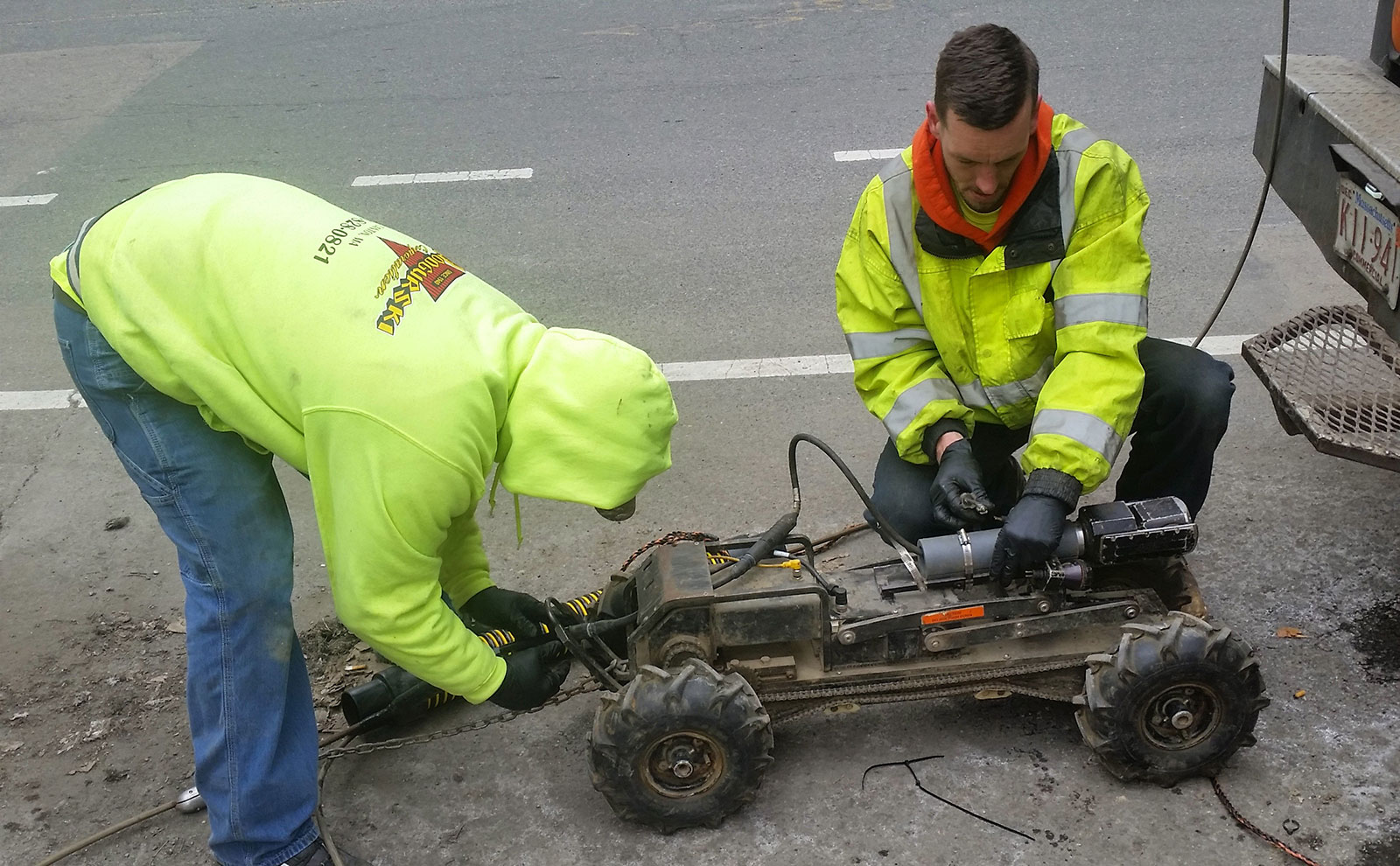 Pipe Inspection Equipment
Now, with our video pipe inspection equipment we can look right into your drain system, sewer pipes, septic tank, underground lines, pipes, or drains. Our state-of-the-art equipment allows us to diagnose your drain or sewer problem without needless digging. All through the magic of miniaturized TV. This non-invasive video diagnostic service offers a close-up, full-color, live video view of your septic system, sewer system, or drain system.
Video Pipe Inspection Equipment
We can inspect underground pipes and drains – with a specially constructed high-power, state-of-the-art camera and self-contained lighting system.
No disturbing lawns, driveways, patios or buildings
We can precisely locate leaks, blockages or damage
Repairs, if necessary, can be done with minimal impact to surrounding areas – and sometimes without even exposing the pipes.
A video can be made available to show the homeowner our findings and recommendations.
Small Diameter Inspection
The RIDGID COLOR MINI-SEESNAKE PLUS is a tough, small diameter push camera capable of navigating multiple 2 inch 90 degree turns and 3 inch P-Traps. Built-in transmitter works with RIDGID SCOUT
Specifications
Line Capacity: 1.25 to 6 in
Maximum Run: 200 ft
Operating Temperature: 14° to 122°F
The CUES camera head has advanced electronics to ensure well lit and upright video capture. We are able to find issues with small diameter pipes very quickly with minimal disruption of floors and lawns.
Pipe Locating
The RIDGID NAVITRACK SCOUT is a very recent advance in pipe location technology. Using multiple receivers, this equipment models the 3D magnetic field allowing for precise location and depth readings.
Features
Multi-directional antenna and easy to read display make locating cameras and remote transmitters fast, easy and accurate.
Scout allows you to walk to the target by maximizing signal strength. The nulls and false peaks that make other locators difficult have been eliminated.
Digital signal strength and mapping display confirm location of target. Battery strength and frequency selection are also displayed.
Automatically calculates depth down to 20 feet when over the target.
Snaking Camera for Small Diameter Inspection
The Ridgid Color Mini-Seesnake Plus is a tough, small diameter push camera capable of navigating multiple 2 inch 90 degree turns and 3 inch P-Traps.
Features and Benefits
Built-in transmitter
Line Capacity: 1.25 to 6 inches
View up to 200 feet of pipe
There's something wrong inside your pipe. Where is it? What is it? How bad is it?:all a mystery, unless you have a way to get into the pipe and see it…
Now you do. Any size pipe from less than 2 inches to over 8 feet in diameter. Now, using state-of-the-art miniature video technology, we can locate all of these:
Leaks
Breaks
Inflow
Blockages
Roots
Bends
Clogs
Buildup
Introducing The Jumbo Cam System – the most complete, most advanced video inspection service ever assembled. It is a non-invasive video diagnostic service for virtually any sewer or catch basin system.
The Jumbo Cam Mobile Video Diagnostic Center is actually a TV studio and data center on wheels. Once at your site, we can inspect even the largest underground pipes and drains without having to do any digging – with a specially constructed, high-power, state-of-the-art camera and self-contained lighting system sufficient to illuminate pipes of as much as 8 feet or more in diameter and up to mile long.
In addition to high-resolution video images, the system produces computerized color printouts of the system in diagram form. In combination with Podgurski's JumboJet Vactor Combo truck, the Jumbo Cam allows complete diagnostic and servicing for:
Municipal & Commercial sewers, water mains and storm drain
Commercial septic systems
New construction or renovation
Condos, hotels and apartment complexes
Podgurski owns the very powerful and accurate "GraniteXP Software" for monitoring video feeds from our Pipe Video Inspection Tools. We run it right inside our Mobile Vans in the field so we can find and fix problems faster than our competition!
The Jumbo Cam System begins with Granite XP comprehensive data collection and management software by CUES offering unmatched flexibility and customization. Built using contemporary Microsoft Visual Studio technologies and designed with an asset-based architecture, Granite XP allows us to navigate to any pipe segment or manhole and view all inspections.
Because this is the database structure on which asset management and Geographic Information Systems (GIS) are built, data integration is seamless.
CUES Software Features & Benefits
Includes powerful and flexible Quick Find and Filter capabilities that allow you to search the Granite XP database for desired inspection record(s) based on specific criteria – important for utilities that need to prioritize rehabilitation plans for an effective CMOM program.
Ability to import ESRI asset data into Granite XP from a master GIS database
Standard and custom reports can be saved in PDF, HTML, or ASCII file format and can be emailed from Granite XP
Export data in multiple formats including Oracle, SQL, Access, PACP, WRc Sewer.dat, Sewer1.dat, Hansen, Azteca Cityworks, WinCan and ASCII
Powerful search using keywords and filtering capabilities by projects, assets, inspections, and observations
Pluggable architecture for extensions development without re-architecting or changing the entire application Perform reverse setups in a single inspection, "upstream against the flow" or "downstream with the flow" to display upstream and downstream observations on the same inspection
View live video and images simultaneously or select an observation on the pipe graph to access that precise point in a MPEG I, II & IV video instantly
We can provide detailed reports for diagnosis and repair and for reportage compliance. In full color, in video (VHS or DVD), on paper, or in any of a variety of digital formats.
The Jumbo Cam, the video diagnostic system that offers a close-up, full-color, live (and VHS or CD recordable) video view of any sewer, water or storm drain pipe up to an amazing 100 inches in diameter and up to 4,000 feet long.
"Mudmaster" Equipment
The Mudmaster is a camera transporter that's specifically designed with the necessary weight, power, speed, high clearance, and all wheel drive for pipelines ranging from 24″ to 200″. The Mudmaster combines high ground clearance with pneumatic tires to provide the traction and camera stability that's required for operation under the most adverse pipeline conditions including high flow, deep mud, sand and large amounts of debris. Optional tandem wheels are available.
The Mudmaster can turn 360 degrees within its own radius and traverse pipelines with multiple 45 and 90-degree bends. The waterproof remote operated camera lift can be inserted through a 19″ diameter manhole with the camera in the lowest position to preclude the operator from confined space entry. This rugged all wheel drive robot can traverse up to 2500 ft. depending on pipe conditions and can operate all CUES cameras, including OZ (Optical Zoom Pan and Tilt), and Night Lite pan and tilt. Its unique portable joystick stick controller enables the operator to control all transporter, camera, and camera lift functions with one hand.
Four or eight (tandem) wheels provide greater traction in all types of pipe, under all conditions
Matched weight and power to maximize efficiency and capability
Simple dual wheel installation and captured hardware
Remote operated adjustable camera lift
Can inspect 24″ through 200″ lines; up to 2500 ft. runs
All wheel forward and reverse drive
Rugged, durable and sealed to eliminate water intrusion
255 watt light system, variable, adjustable, 3 lamps
Stable wheel base, Steerable Mudmaster camera carrier
Power forward, power reverse, and freewheel reverse
Operates with all CUES cameras
Flight stick controller to control the transporter and camera movements with one hand
Mudmaster power control unit
Eight (8) 10.5″ diameter semi-pneumatic tires
Can turn 360 degrees and traverse pipelines with multiple 45 and 90-degree bend
In addition to high-resolution video images, the system produces computerized color printouts of the system in diagram form. In combination with Podgurski's JumboJet Vactor Combo truck, the Jumbo Cam allows complete diagnostic and servicing for:
Municipal & Commercial sewers, water mains and storm drains
Commercial septic systems
New construction or renovation
Condos, hotels and apartment complexes
Video System Specifications
On screen accurate footage
On screen inclinometer
Pan-and-tilt adjustable focus color camera for fully directional and clear view at all times
Configurable from 6 to 60 inch diameter pipe
Fully steerable in forward & reverse
Fully submersible to 30 meters
Transmitter/receiver for location with RIDGID SCOUT
1300 foot range with 2 access points, 650 foot with 1 access point
Automatic motorized cable reel for easy insertion and removal
Can be made portable for facilities work
Floatation raft for large diameter charged pipelines